Abstract as a dissertation
If you are planning to get Master's or Academic degree you would have to deal with writing a dissertation. This word is often associated with something incredibly hard and complicated, but still, this kind of work is quite significant, because it summarizes everything related to your speciality and gives you an opportunity to examine its particular aspects thoroughly.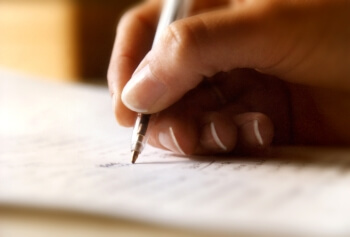 Like any other academic paper, a dissertation is structured and has certain parts. And the first part (after the cover page and table of contents) is an abstract. It is a core of your work, where you should highlight the main points of your research, mention the research object and subjects matter and approaches to studying chosen topic. Therefore, you may say that an abstract is a "business card" of your final work. That's why it's important to keep in mind the recommendations concerning abstract and its structure at the time of writing.
Where to start
First, you should indicate the theme of the work and write down some keywords. It will help the reader to understand the area of your research and suggest some questions you may highlight in your work. Also, a well-done abstract contains a few sentences about the problematics of your research and several questions, which would be answered in your work.
Also, what matters is the relevance of your paper. So many things have already been studied, and your task is to explain why exactly your topic is worth researching. It means that in your work you should introduce some new ideas and viewpoints. In this part you give something like an explanation why have you chosen exactly this aspect of the subject and what its main purpose is. And these are the things you have to write in the abstract as well.

Every essay writing dilemma
can be solved right now!
Main part guidelines
Then you should shortly describe the main part of your academic paper. As a rule, it consists of two parts - theoretical and practical, so your task while writing the abstract is to highlight the crucial points of it briefly. Write several sentences about the basics, which would be described in your theoretical part and something about the research you have done in the practical part. Keep in mind that your task is to show that your dissertation sheds new light on the question, discovering something unknown in the particular field.
It is not enough to mention only the subject of your dissertation. The methods used to study the matter are not of less importance. Therefore, you have to think about approaches to the studying of chosen subject thoroughly and write them down in your abstract. Use only reliable information and don't try to write about something too complicated. Write about what and how you have done.
Abstract Conclusion
And the last but not the least part is a conclusion. Here you have to mention some critical points and results which you have got after all the researching and studying. Write only a few sentences about it, because its major part should be written later in the work, not in the abstract. Don't try to write only about strengths of your dissertation. You can mention some weaknesses as well, if there, for example, were some difficulties or not enough information to elaborate some questions.
No redundant information
Sometimes page number, types of images or diagrams and even number of used sources can be mentioned in the dissertation abstracts. It would be better for you to ask your curator whether or not it is necessary to avoid any redundant information in the abstract.
Remember, that the main aim of the abstract is to get reader acquainted with your research and its main points, let them understand it without being dragged deep into material studying or ask professional dissertation services online to help you!
back to all posts