How to Write a Good Research Paper: Step-by-step Guide with Examples
A research paper is a self-contained technical document that teaches a busy and skeptical person something new. A research paper is not a blog post, design doc, or post-mortem. There are significant differences in content, structure, and tone. Research paper publishing is a way to demonstrate a commitment to transparency, a high standard of excellence, and advancing science. Having a PhD is not a requirement to do or publish research. Many engineers do publishable research, however, getting a PhD teaches you how to navigate the publishing game. Here are a few pieces of advice to get you started.
Research paper content with all its "For and Against"
First of all, what does it take to create a good research paper? Let's take a look at a short list of the three essential elements.
Novelty. The paper needs to contain a new idea. Incremental works are difficult to publish.
Evaluation. The idea is impossible without evaluation. It might be a mathematical proof, proof of concept, or an experiment.
Presentation. You need to explain your idea and evaluation.
A paper that is very novel might require less evaluation and vice versa. However, most successful papers have some of both, but industry papers are often weak on novelty. Also, remember that a description of a system or data set is not a research paper (that's documentation). A research paper also needs to teach the reader something new about the world. The evaluation part requires extra diligence and effort. In industry, assessment usually only goes as far as necessary to launch it. And, published papers go even further, ideally to rigorous standards.
You should leverage the industry advantages:
Companies have a scale. Talk about scaling challenges or run very large-scale experiments.
Engineers get to work with realistic data sets and workloads. Talk about real-world lessons that academics might not be able to see.
Companies have deep pockets. Get the budget to pay for large and diverse user studies.
For example:
"Which UI is better?"

Unpublishable paper:Interview 3-5 employees in a cafe;
Good paper candidate: A/B test with 1M impressions;

"I built this THING"

Unpublishable paper: How the THING works;
Good paper candidate: Challenges launching the THING on low-end phones in India;

"We have a database of error reports"
Unpublishable paper: Here are all the graphs we made;
Good paper candidate: Top reasons why real-world clients can't connect to Google.
Logical research paper structure with content examples
You should structure your paper so that it's easy to skim. Remember that your reader is a busy professional with a long to-do list. Unlike a blog post, people won't read your "manuscript" from top to bottom. They'll quickly look for one specific figure or hunt around to get the gist.
6 Ways to add structure
1. Follow paper formatting conventions.
Abstract
Introduction
Background
[Technical content]
Related Work
Conclusion
Keep in mind that not every field uses precisely this structure. Look through several existing papers in your field to understand your specific area. Among these points, there are a few that have some peculiarities and worth paying particular attention. For example, an introduction also has its own features and structure. To figure out how to start a research paper, answer the following questions:
What is the broad problem area you are part of?
What have others done before you? Why is more needed?
What did you do?
What were your key findings?
What is the summary of your contribution?
Working on the Technical content part, you are to look at papers in your field to see what subsections are expected to be included, e.g., Limitations, Ethics, Performance. Another thing that should be mentioned is the "Related work" part, and the matter here is that in some fields, this section is put at the beginning, near the "Background". All these parts have an impact on how many body paragraphs your research paper will have, what research methods and information sources will be used, etc. And, the last part is a conclusion. It is a good place to discuss your future work.
2. Follow the "How to write a thesis statement for a research paper" rules.
You should be aware of how to write a thesis for a research paper and describe your paper's central research question in a clear and concise sentence to another expert. Don't forget to put that sentence in your abstract and introduction. To get a better idea, compare the following examples:
Example 1

Example 2

3. State your paper's contributions.
The abstract, intro, and conclusions should all clearly say what you did and why it's interesting and important.
Example 1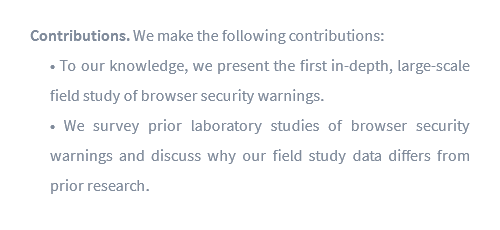 Example 2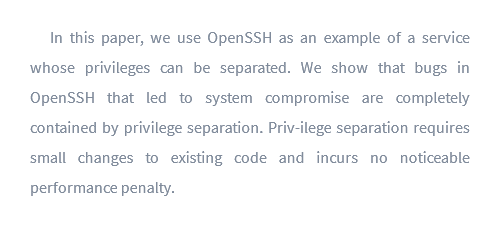 4. Use bulleted lists and labeled paragraphs.
Labeled text helps people find what they're looking for when skimming, or skip insipid sections.
Example 1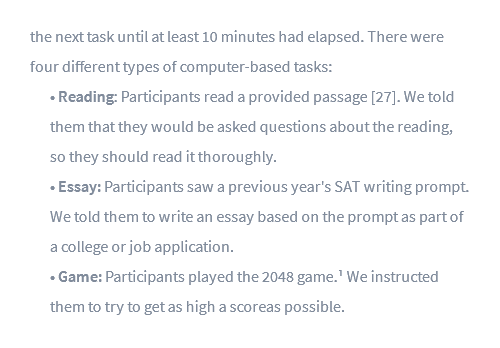 Example 2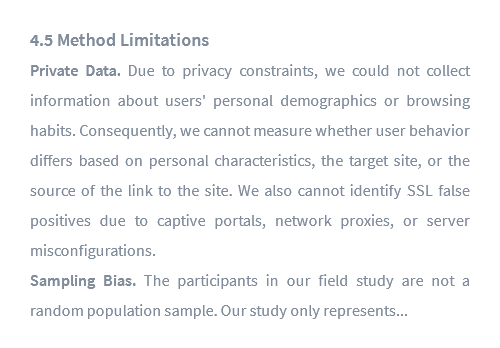 5. Put important numbers into tables and figures in a research paper.
It's easier to spot those in a chart or graph than to have to read through the entire text.
Simple text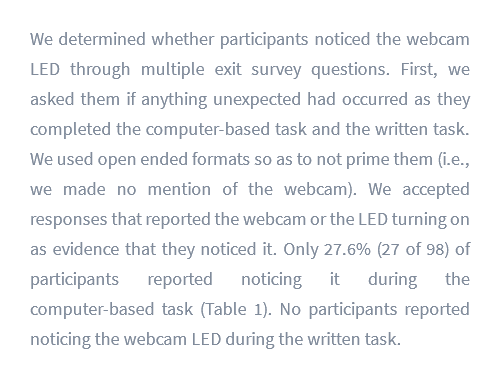 Tables in a research paper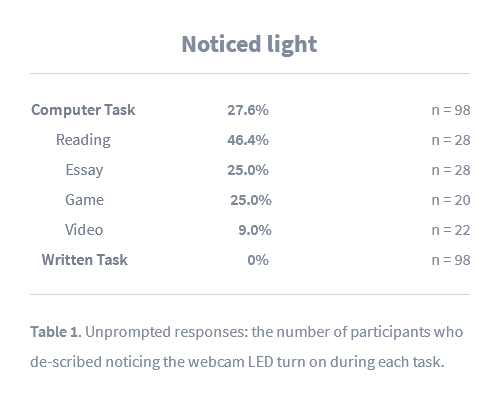 6. Use the right tools.
Each conference has its own template that will help you format your paper. It will provide the requirements for all the for sections, lists, etc.
The template should be done using LaTeX.
Use BibTeX to organize and link your citations.
The structure is extra important if English isn't your first language. It will help the reader follow your point even if there are grammatical errors or the sentences sound awkward.
How to defend research paper and avoid skepticism
Convince the skeptic that your work is trustworthy. The world is full of subpar research; prove that yours is qualitative.
Examples of what you have to demonstrate:
If you're proposing a new system to solve a problem, convince the reader that it solves the problem better than other alternatives.
If you're evaluating someone else's idea, convince the reader that your evaluation is thorough and fair.
If you're testing a hypothesis, convince the reader that your experimental setup is sound.
4 Ways to write a research paper for a skeptic
Never assume anything, even if it's "obvious."
Recall how to cite sources in a research paper and provide citations for pieces of your argument.
If you can't provide a citation, get the evidence yourself.
Common wisdom can be unreliable or biased.
For example, consider this:
"Vermont is colder than California. Data centers in Vermont, therefore, require less air conditioning..."
Wait, hold on. Citation, please! Cause now I'm wondering if that's still true in the summer...
Admit your work limitations.
It's critical to show that you know all the shortcomings and have considered how they would impact your findings.
Don't diminish or hide limitations. It is intellectually dishonest and, once detected, will make your reader question the validity of your work.
Dedicate an explicit section on limitations.
If you tried to mitigate a limitation, say what you did.
Compare fairly to related work.
Novelty is important in academia, so readers want to know how your work differs from prior work.
Do a literature research:


Use Google Scholar
Look over past proceedings of conferences
Read other papers'"Related Works" sections

If you discover that you aren't the first, see if you can do it better, faster, cheaper, and at a larger scale.
Provide all the information your reader's needs.

Imagine a curious reader who wants to double check that you did everything correctly. Make sure you've given them enough information to do so.
Put full proofs, survey instruments, etc. in the appendix.
Open your source code and data if possible. This aspect is tricky in industry if you can't share and describe in detail. How does the code work? What are the data set's characteristics?

Every essay writing dilemma
can be solved right now!
Research paper reviews stage
In order to publish a paper, you must submit it for peer review by a panel of experts. They will decide whether your paper is worth accepting or rejecting. It is relatively easy to learn how to work with the review process. Although it can be frustrating, you can extract value from it.
The publishing process
You submit a paper by a deadline.
Three months later, you find out whether your paper is accepted or rejected, along with reviews.
If accepted, you get 1-2 months to make any last changes. Then you submit the final "camera-ready."
You give a talk about your paper at the conference. The paper is published at the same time.
What does the appropriate review process look like?
Each paper gets 3-5 reviews.
A review includes a recommendation (reject\accept) and an explanation for the recommendation.
Some conferences give the authors an opportunity to respond to the first set of reviews.
Papers that exceed a score threshold are discussed in a meeting, where the set of accepted papers is decided.
Who are the reviewers?
Reviewers are professionals in a particular field. Caveat: fields are broad, so your paper might be outside their competence.
Reviewing is "blind," so you won't know exactly who reviewed your paper. However, you can look at the Call For Papers to see the program committee.
Reviewers are typically overworked. They have a high review workload and are not paid for this work.
What do reviewers look for?
The basics are novelty, evaluation, and presentation.
Reviewers will also look for technical correctness.
Individual reviewers bring their own ideas of which research areas are "hot" vs. stale.
Program committees will consider the fit for the audience.
How to handle a rejection
Feel upset for a few days. Complain your friends about how your reviews were unfair.
Cool off and gain perspective. A paper rejection says nothing about you as a person. Plus, conferences reject good papers; human processes are imperfect.
Use the reviews to improve your paper.
Resubmit to another conference after making improvements.
Reasons for rejection
In students' experience, all papers are rejected for four reasons. The trick is figuring out which reason(s) apply to your paper.
Paper is boring
What reviewers will say: Incremental; lack of novelty; impractical.
How to fix it: <Submit to a different audience or find something else to work on.
Work contains a technical flaw
What reviewers will say: Concerns about methodology, biases, etc.
How to fix it: Fix the flaw and\or rewrite with a skeptic in mind.
Work is under-developed
What reviewers will say: Nice idea but evaluation is lacking.
How to fix it: Do the extra work.
Paper is hard to read
What reviewers will say: The reviewer misunderstands your paper.
How to fix it: Add structure. (It's your job to be clear for busy reviewers.)
Now, when you know how to write a good research paper and aware of everything about stages of its preparation and presentation, there is no doubt that you will succeed in its writing and amaze your audience. Also, remember that you can always get help from us with academic research paper. Good luck!
back to all posts