What Is an Essay?

Everything That a Student Should Know about College Writing in One Guide

"What is an essay?" "How to write a good essay?" "What types of essays exist?" "How to cite and format an academic piece?" Students often have these questions in mind, as written assignments represent the greatest share of their grades. It impacts a grade-point average (GPA) and the chances of entering college or university. This post will cover all the essential things that students have to know about essay writing. We will start by answering the most common question, "What is an essay?"

"What is the definition of an essay?" An essay is a piece of writing that introduces and supports a thesis statement or proposition. The origin of this word lies in Latin. In this language, "exagium" stands for the case presentation. The idea is to tell a story or cover a specific subject.

"What is an academic essay, and how is it different from a typical one?" A typical essay is usually a narrative. An author simply reflects on a story from their life or personal position towards some issues.
What is a college essay? Well, this piece should be more objective and informative. It can be a narrative or reflective one, but, most often, it should be based on specific data from credible sources so that teachers can evaluate student's research and analytical skills. Also, unlike a literary essay, an academic one has to be formatted in a specific writing style recommended by one of the educational or scientific organizations.
When a student composes an essay, they make a case for the validity of specific opinion, assessment, explanation, or set of facts/procedures. That is how we can briefly interpret the answer to the question, "What is a college essay?" Even though there are four basic types of this assignment, we can recall some more:
argumentative,
descriptive,
synoptic,
analytical,
exploratory,
book review, and so on
The purpose of an essay is more-or-less the same, no matter which type you choose to work on: to present and defend a topic and a stance to the target audience. This piece of writing should only contain info that needs to be displayed. The writer should not overload it with useless details or fake information. Essays also rely on the choice, critical analysis, structure, and presentations of the data collected.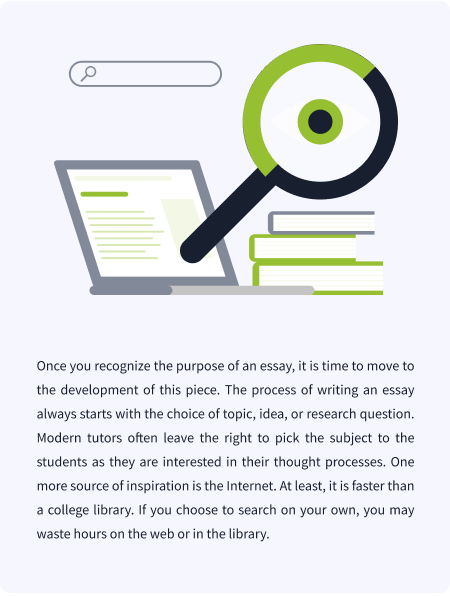 So, "What is an essay?" Now, you can give a response. Let's move on to some other meaningful facts and tips to make the writing process even easier.
Essay Structure

(with an Outline Template That You Can Use)

The primary thing that you need to do is to learn how to make a good essay title, but there is one more large step before getting started. The writer absolutely can not miss the process of creating the structure of an essay. An outline is the skeleton of a piece. Without one, even the toughest writer will face the writer's block sooner or later.

It can be a hard time getting to the actual writing once you master how to title an essay without having an example or, at least, a template of an essay outline. You should connect the ideas as this type of writing must be logical and concise. It's like building a mind map. Apart from looking for free online examples, students can go another way. The best way to come up with an organized, proper essay structure is to use the so-called brainstorming technique.

The essay structure is what develops your writing and analytical skills. Always relate to the tutor's initial instructions and grading rubric; you may find tips on how to organize your piece there.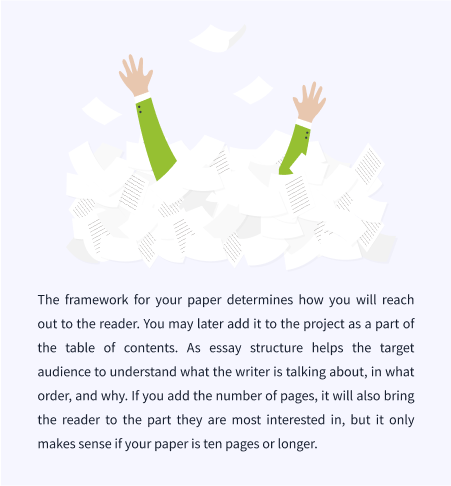 The essay structure is what develops your writing and analytical skills. Always relate to the tutor's initial instructions and grading rubric; you may find tips on how to organize your piece there.
Students who wonder how to structure an essay may also want to estimate the size of an average one. Usually, this requirement is included in the prompt. That is why you should study it carefully and underline all the primary things.
Most often, teachers ask students to prepare a five-paragraph essay. It can be of one page, two pages, or more, depending on the type and purposes. A single-page double-spaced document consists of approximately 250 words, while that number is 500 if the text is not double-spaced. Watch out carefully to find out which format is preferred by your teacher. Perhaps, they only control the number of words.
Though the basic essay structure consists of five paragraphs, it can be more, depending on various factors. For example, an extended piece may have 3,000-4,000 words! Mind that, while in high school students usually deal with the essay of five paragraphs, in college, it might be enough to have a paper of only three sections, but the requirements, in general, are harsher. An essay paragraph structure is a somewhat debatable question, so it is better to ask your teacher before starting to work.
Be it argumentative, cause and effect, or narrative essay, students should remember the recommended essay structure. Without an outline (or with a wrong one), you risk ruining the impression your piece of writing gives off. Your goal is to create a remarkable story instead of an ordinary mess.
Introduction
What is the purpose of the introduction in an essay? This part has to be no longer than two paragraphs. One is the recommended size. This section predetermines the further destiny of your work: whether it will be read from cover to cover or not. If you do not know how to start a good essay, listen up. The author should offer the topic's background. They must stress why someone would be interested to know more about the issue. For example, COVID-19 is a rather trendy topic that may attract various audiences.
Also, you may insert an attention grabber in the first few lines of a story. What is a good hook for an essay? It can be anything, from a fascinating fact about this virus to dramatic statistics or quote from a field expert.
Thesis statement
What is the thesis of an essay? That is a frequently asked question of any student. First of all, it is not the same as a master's thesis, which is a separate project, made of several thousand pages. This sentence (or two as a maximum) is an argumentative claim - the heart of your assignment. Though it shows up at the finale of your introduction, experts recommend creating it after the full paper is ready. It will be easier then to formulate a clear and concise thesis based on the arguments used in the body paragraphs. Some say that you can decide to develop one immediately after figuring out how to head an essay. In any case, it's vital to keep a thesis statement in mind when writing.
Body part
Once you are done with an opening, move to the essence. Every paragraph of this section should open with a topic sentence. That is a small argument that relates to the primary thesis. Start every new paragraph by revealing the main idea. Second, come up with the data from primary or secondary sources to make your words look credible. An author may also insert quotations when referring to different trusted sources, along with examples to illustrate what they mean. All paragraphs have to be linked with each other with the help of transition words. Keep in mind that the maximum paragraph length should not exceed 200 words (2/3 of the A4 page).
Concluding paragraph
There should be only one concluding paragraph, no more. Do not add new info. It is enough to offer a summary of the entire text, highlighting the main ideas of every section of the body. Repeat the thesis to remind your readers of what you've been talking about and come up with a conclusive statement to present the basic findings of your study.
Now, it is the right time to learn how to create a title for an essay. Maybe, you wish to find out more about different formats of an article. Perhaps, you are more interested in the question, "What is a header in an essay?" The section below will open the secrets of successful academic paper writing.
How to Write an Essay:

Your Mini How-to Guide

Most learners grimace as soon as they hear the word homework. Most often, teachers mean an essay or research paper behind this word. If you do not know how to write an essay, it makes sense that you will hate this assignment. However, after reading this guide in full and practicing, you'll see that there is nothing scary about it.

If you include all the necessary points and sub-points in your outline, you will not lose the direction. The examples that you can get online can help you stay on track. We should begin our guide on how to write an essay.
Topic Selection Comes First
The primary step to learning how to write a college essay is through realizing how to select the proper topic, issue, or question to discuss. If your tutor provides you with a specific problem to solve, you are the lucky one, as many young people get lost, without knowing what to do, when it comes to the topic choice. They might be full of ideas, or, vice versa, have no good points whatsoever. It depends on how much you love the studied subject. In any case, even if your teacher allows you to pick the theme on your own, you still should make sure the points you wish to cover relate to the lessons that you have recently gone through in class.
Once you come up with the thesis, it might be easier for you to pick the topic or formulate the question. Sure, you may first decide on the subject and move to forming a thesis statement later. Highlight the short piece of background that you want to focus on in your writing. Look at the headings of intriguing newspaper or blog articles to understand how catchy titles are created.
Look at the headings of intriguing newspaper or blog articles to understand how catchy titles are created. Which of the entries impress you personally? No matter what your field of study is, you can always find plenty of articles and titles. Learning how to come up with an essay title is a valuable skill that will be helpful for the rest of your life. Many well-paid experts get rewards only for developing powerful names or slogans.
Plan Your Writing
Above, we have explained how to create an outline for an essay. Once again, it is your action plan, without which you risk getting lost in the endless forest of writing. Except for the introduction, three parts of the body, and conclusion, do not forget about adding a works cited page. You do not need to include citations and references only if you are writing a narrative or descriptive essay (we will cover them below).
Also, some essays may have abstracts. Those are small parts of the text (no longer than 1/3 of a page), explaining what the readers can expect from your writing, why it matters, and some of the study results. Finally, the presence of a title page depends on the preferred writing style (MLA does not require one). You should keep it in mind as this fact helps to remember how to write a college essay.
Begin Your Writing
It is not easy to learn how to start an essay. We have collected the best tips and recommendations from the top field experts for you:
Develop a brief and direct thesis statement
A thesis statement is the central argument of the entire assignment. Avoid starting your thesis from phrases like, "This paper is about..." Be straight-to-the-point and concise. For example, "Many people treat Halloween as an American holiday, but it is about the right time to discuss the origins of this date to understand its true meaning."
Pose a question
If you choose to begin your writing with a rhetorical question, you do not need to provide an answer. Let the readers speak for themselves. You may also start with a regular query, but make sure that you have it answered by the end of your essay. The best way to start an intriguing question is, "Did you know that...?"
It is slightly different from the typical query as it does not require an answer - it is obvious. Show the significance of the topic or idea by posing a question. For example, "Is it fair that some children cannot attend colleges only because they have no money to pay for their education?"
Recall a shocking fact or some stats related to your topic
Need another idea on how to write an introduction for an essay? "It is a surprise for many companies that 80% of their revenues come from their returning customers, not the newbies." It could be a nice way to begin your essay for the marketing class. Make sure to provide the source for each fact or statistics you insert in your work.
Involve recent discoveries
Even if it is not a revelation, involve some artistry and show how you are impressed by your finding. For instance, you may talk about the recently discovered symptom of COVID-19.
Do you need to prepare an assignment for a history, philosophy, or art class? Then, this approach might work. Talk about the events that happened in the past like they are happening now. For example, it could work with the Civil War.
Describe the specific setting. Do not insert many details or elements of description (unless you work on the descriptive paper). It is better to describe time and location where the events took place in no more than two-three sentences.
Highlight the Body

of Your Work

With the detailed structure, you will know how to write an essay. Each time you start another body paragraph, create an opening sentence. It will be an argument supporting the thesis statement (always refer to it). Next, present the primary fact from the thesis and come up with a closing sentence. In the body, you have to use evidence and illustrations to prove your point or just provide information if your writing is not persuasive enough.

Your paragraph's essence and purpose should be clear. Repeat the steps described with the rest of the body of your essay. The next step is to discuss how to end an essay.
Develop a Concluding Part
Facts, statistics, joke, quote, favorite lines of the sonnet, rhetorical question, ... That is how to start a conclusion for an essay. The primary goal is to leave a long-lasting impression and make the reader interested in further study and discussion of the problem. That is how to finish an essay.
The biggest mistake of most students is to think that a conclusion is a summary. We can say that an abstract of the paper is its summary. A conclusion has other purposes: it has to deliver the main message of the entire writing and prove that the problem was necessary to observe. The final paragraph of an essay must decide whether the thesis statement was justified or not. Three main patterns of an essay conclusion are known, and you should remember them to learn how to end a college essay. Those are:
The claims  (topic sentences from the body paragraphs from the most important to the least one)
Paraphrased thesis statement (do not copy-paste it from the intro)
The concluding sentence (that is what a hook in an essay is)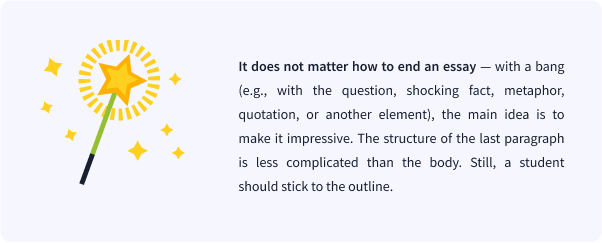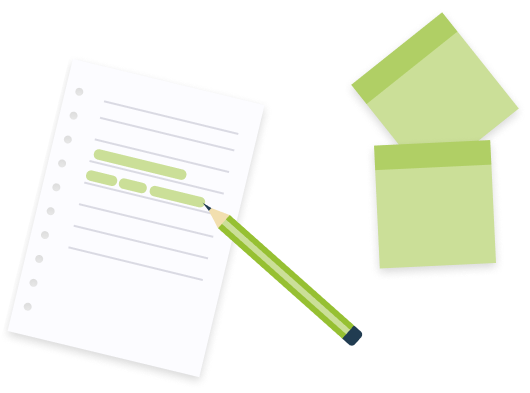 The primary idea is to recall the thesis statement to refresh the memory of the target audience, which has read plenty of information since then and could forget about the central argument. The author has to sum up whether the thesis is true or the problem is solved.
You will need a good template at the start to understand how to conclude a college essay. Here is the one you can use:
Paraphrased thesis statement (use an introduction that will remind the reader of the sense of the problem)
Summarized  main claim  from the 1st body paragraph
The central idea of the 2nd body paragraph in the brief
Summary of the 3rd body paragraph
Final words about the main points
Responses to the top significant questions of the work
Now that you mastered how to wrap up an essay, it is time to move on and learn about different types of this assignment. Most probably, you have already noticed that you receive various pieces to write for different classes and under different circumstances. We will help to get rid of the confusion.
Four Basic Types of Essays

to Keep in Mind

Currently, there are more than twenty essay types out there. Experts usually divide them into categories to make it easier. There are four main categories, and an expository essay has most of the sub-categories. We suggest that you look at these basic types as well as mini examples to get an idea.
A Narrative Essay
Do not confuse the narrative writing with the descriptive one! Thus, read our definitions of both as well as short samples of each.
The primary objective of a narrative essay (or simple "narrative" or "story") is to introduce and describe an event or experience from the author's life. It is not enough simply to describe an object, although description should be part of the narrative. This essay must possess a vivid plot. It may remind the reader of the movie scenario or a short book.
In a descriptive essay, a writer should not care about the plot. In both cases, there is no need to add data from external sources. The story has to reflect only the author's experience and feelings. The piece should be more narrow than wide; it should encourage reading all of it from the first line, and it should be 100% original and captivating.
A Descriptive Essay
A descriptive essay stands for a brief assignment that describes or summarizes the specific theme. It has nothing to do with persuasive writing, as there is no need to convince the audience. Descriptive paper usually consists of no more than one page.
A student does not have to collect any additional sources in this genre - the description based on personal experience is enough. One may pretend that such type of work should be made only of illustrations, but instead of inserting images, you use words. A writer must use plenty of adjectives and adverbs in a descriptive piece. Just say what you see, hear, touch, feel, or taste - play with one of the human senses (or use all of them).
It is possible to describe a particular place, person, event, or object in this type of assignment. Though it is one of the simplest types of essay, one should still be careful when working on it. This kind of writing is very powerful in its sole objective.
The primary goal is to leave the taste of the topic lingering, along with a long-lasting impression. The reader should see a picture with the help of words alone. When writing, you should count on the imagination of your audience. The idea is to create an atmosphere.
This task is perfect for sharing moods and impressions. The sensory details are extremely important, and all five should be present. One should involve both figurative and vivid language. To avoid offering a vague picture, the writer should not generalize the text. It is critical to provide many small details to sound specific and clear. This type of writing trains imagination and shapes creativity greatly.
An Expository Essay
In one of the most common essay types, the writer has to explain a theme or problem logically and straightforwardly. It is critical to work with facts and statistics to conduct a fair evaluation of the selected topic(s). The author should start with defining the problem and finish with some ideas on how to deal with it or get rid of it.
In this paper, the student has to offer facts and definitions of the issue. There is no need to address the specific argument (position on the topic) and prove it right. Leave it for argumentative and persuasive genres. Do not ignore the prompt or add something from yourself - only interpret things. No bells and whistles - that is the key to success.
There are several variations of an expository essay. If you are not given a specific one, decide what the best way to discuss the offered topic is. Here are the main types of expository papers:
Definition (identify the term or phrase, using dictionary suggestions, but expand them by adding your own vision and examples)
Classification (divide the subjects by categories and cover them)
Compare and contrast (choose things from similar categories to find what they have in common and what makes them different)
Cause and effect (define the reasons for some things to occur and their consequences)
Process analysis (it is the same as a "how-to guide:" create steps for doing or completing something).
A Persuasive Essay
This one is definitely one of the most complicated and challenging types of essays. What is a persuasive essay? It is the one that heavily relies on the writer's logic and reasoning. Sometimes, people call it an argumentative essay. The idea is to claim your position towards the specific issue and do your best to prove this opinion, posing it as the only right or most effective.
The writer should put forward clear ideas and support them. To do so, they should spend some time collecting primary and secondary sources. In most cases, primary sources are considered better, but, for students, it might be hard to gather them. Thus, teachers allow them to use secondary data. The main condition is that the information must be fresh and relevant.
Out of all essay types, persuasive assignments might be the most complex due to the use of sources as well as persuasive techniques. Not all people know how to prove their points of view even when they know they're right. The writer may insert facts, statistics, direct quotes from the field experts, and more. If they choose to operate with primary data, it is important to prepare special instruments like questionnaires, surveys, interviews, polls, and more first. As for the secondary data, it is possible to retrieve it from such sources as books, magazines, journals, newspapers, scholarly articles, meaning from the materials created by other people before you.
Those are the four main different types of essays that students most often face during their academic careers. The next stage of writing is a research paper, but that is a different story. You may find more free and paid examples of various essays online.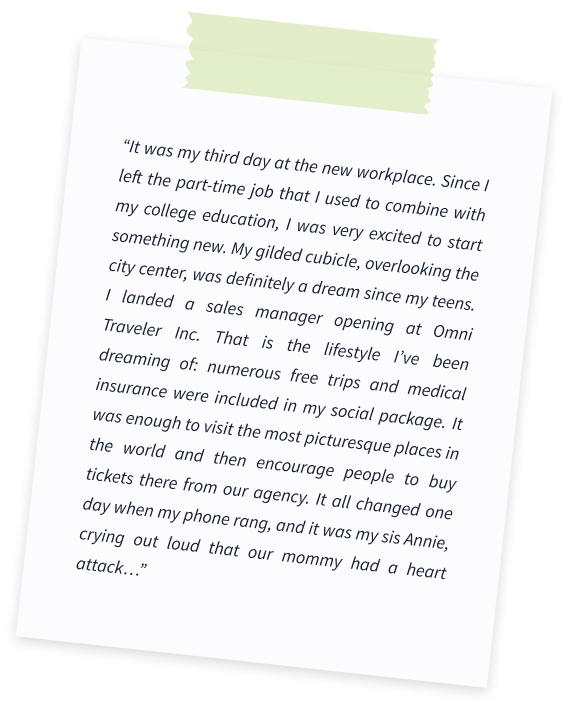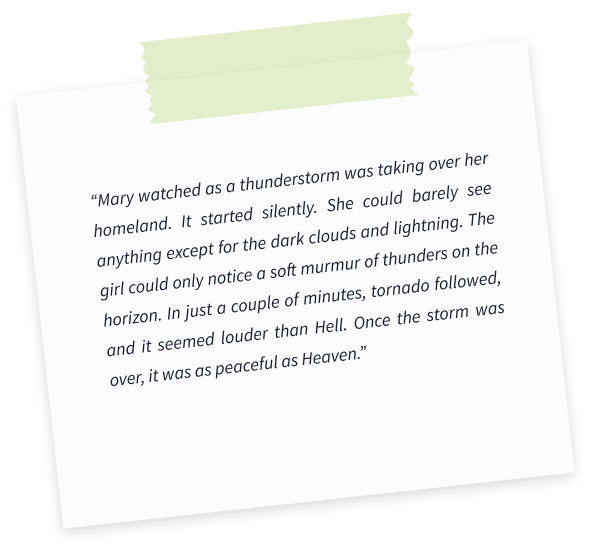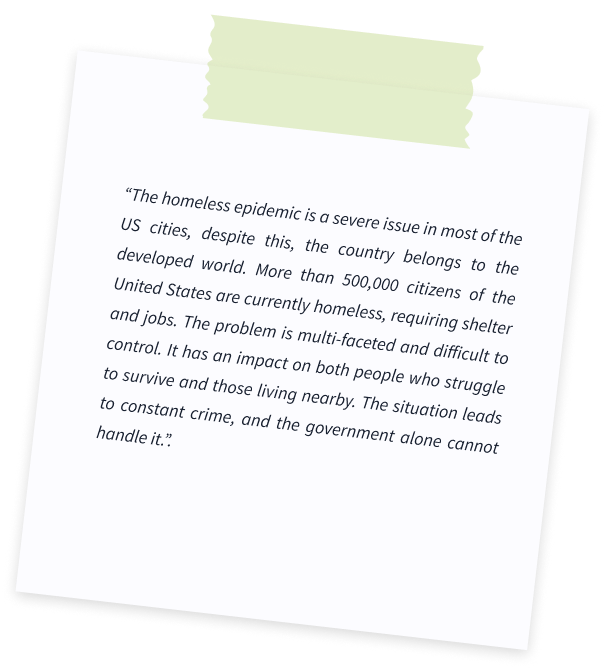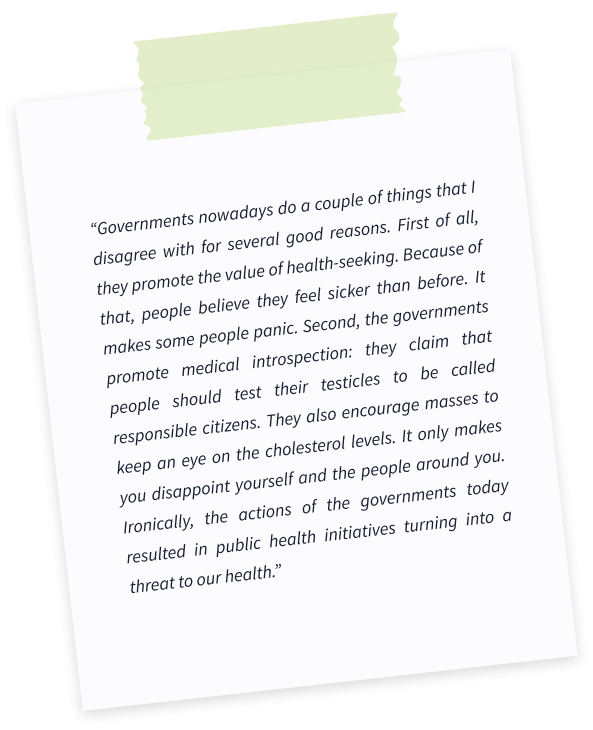 Main Essay Formats:

APA, MLA, Chicago (with Samples)

Why should students include the citation and corresponding reference in their works (essay format)? If you have to prepare a reflection essay, there is no need to use the thoughts of other authors, but the rest of the academic texts require some evidence to support your words and main argument, which is known as a thesis statement. Teachers want to see how well their students can search for the relevant sources, analyze them, pick the most useful information, and use it to prove the main points of the work. That is why they expect students to follow specific essay formats.

We have discussed that there are three basic parts of a structure, but it can vary depending on some factors. What you include and how depends on the recommended essay format. An MLA style citation is the most popular one. It is the 1st referencing style that students meet in their academic career as it is introduced in high school. In this post, we will discuss the importance of the citation as well as how to get help with citing and referencing sources properly.
Each time you use the ideas of other people, you should not pretend you are the author - learn how to format an essay properly. You would not like someone to use your thoughts and ideas without referring to you, would you? It is critical to respect intellectual property the way you recognize physical assets that belong to others; otherwise, you will be considered a thief.
To earn maximum credits for your research project or academic essay, you should master the art of essay formatting. It serves several purposes:
Distinguish people who contributed to the study of a specific problem
Show your exceptional research skills
Demonstrate how you can analyze and criticize sources
Present how you work with both primary and secondary sources
Avoid issues with plagiarism
Obtain the highest grade
Make it possible for your audience to search for and find the relevant references to continue their study of the subject/problem
To prove your competence to the teacher
One day, you will complete genius research, and the next generations will be citing your work, using one of the essay formats. Try not to break the rules and cite your papers properly. You may not see formatting as one of the requirements in 100% of cases, so it is better to specify whether you need to use any sources and which style to apply. What if the teacher gives you freedom of choice? Select the form based on the subject or your educational institution. While APA is used to cite Psychology papers as it was proposed by the American Psychology Association, it makes sense that students of Harvard usually cite their works Harvard style.
Citing and referencing (formatting in general) weighs something around 10-15% of the total grade, and that is why, to earn an A, you should not ignore this requirement. You must find out how to format a college essay. If you fail to acknowledge other authors, you will be faced with an F! Without mentioning the works of other authors and using the recommended essay format, teachers will define the inserted citations as plagiarism, and it is the worst act of academic dishonesty, punished with a failing grade. You will never have a good excuse for that! If you make mistakes while formatting your work, you will still receive a mark lower than expected. We'll start with an MLA formatting for an essay, being it is the most commonly used.
MLA
MLA stands for the Modern Language Association. This organization has established this writing style to help students and researchers quote and reference works in humanities mostly, but it is used in many other disciplines. It is the most wide-spread citation format. Whenever you deal with the written project in cultural studies, liberal arts, humanities, literature, or languages, pick MLA style to cite the external sources. It is the most concise and simple style to master.
So, how to cite an essay in MLA? It is easy to memorize the rules of MLA, but having many guidelines for different citation formats in mind may be confusing, and students should stick to the latest editions of writing manuals. In the case of MLA Citations for research papers, it is the 8th edition. You should find it online and study attentively not to make mistakes.
Though MLA is the easiest and you don't have to include most of the elements like the title page, it requires some time to remember the basics. You will need to give:
The first name/the last name of the author
The full title of work
Publication year
Publisher
Location
Page number(s)
In rare cases, extras like volume and issue are required. You should spend some time learning how to include those details for every type of source. To remove the hassle of referencing the works of others and developing the most basic entry for the Works Cited section, you may find it a good idea to use a citation generator.
MLA does not require a separate title page. However, it does require a heading before the piece's title and body. Make sure to include the following elements:
Full student's name
The name of professor or instructor
Course/Class name
The task's due date
That is it. Also, it's necessary to double-space the full work. One page double-spaced is approximately 250-275 words. After the heading, there comes a title placed in the center. Italicize only the names of works of other authors in your title (if any). How does citing in an essay looks like for MLA?
O'Hanlon, Bert, Lenny Thompson, and Brenda Massey, comp. and ed. Safety: How to be Safe Literally All the Time. San Diego: Goldstein, 1942. Print.
Encyclopedia of Football. New York: Sporting Publishers Inc., 2002. Print.
Canadian Pumpkinology Association. The Truth about Rats and Skunks: Nature's Worst Enemies. Toronto: La Fraude Publishers, 2009. Print.
APA
The next style to discuss is an APA format essay. Keep in mind that the recommended font is Times New Roman or Arial 12 pt. It looks professional and clear. Add a number of each page in the top-right corner.
When it comes to citing and referencing, remember several things. First, there are two types of citation:
Direct (do not change the original text and copy-paste it, using quotation marks, but provide the last name of the author in brackets);
Indirect (paraphrase the words of another author, but still cite the source in brackets).
Every quotation that pops up in your text should be referenced respectively on the last page of your paper, which is a References page in APA. So, essay formatting APA is made of citations and references. A student should add a title page in the beginning.
Here are the things that you should specify when creating a citation, using an APA style essay format:
Full name of the work
Type of work (as each type of source requires a different approach)
Names of all the contributors
Website title (if the source is online)
Publisher or sponsor of the publication
Electronically published (year) and place
Annotation (if any)
APA is one of the essay formats frequently used by the students of psychology classes. Other healthcare experts may also pick this style to cite and reference. So, how does citing in an essay looks like for APA?
Derwing, T. M., Rossiter, M. J., & Munro, M. J. (2002). Teaching native speakers to listen to foreign-accented speech. Journal of Multilingual and Multicultural
Development, 23(4), 245-259.
Asmelash, L. (2019, August 14). Social media use may harm teens' mental health by disrupting positive activities, study says. CNN.
https://www.cnn.com/2019/08/13/health/social-media-mental-health-trnd/index.html
Thomas, H. K. (2004). Training strategies for improving listeners' comprehension of foreign-accented speech (Doctoral dissertation). University of Colorado, Boulder.
Chicago/Turabian
As you might have guessed from its name, Chicago style essay format was designed and proposed by the University of Chicago. It is sometimes called Turabian, as they are almost identical. To layout an article in Chicago essay format, keep in mind these guidelines:
Make 1-inch margins from all sides;
Double-space the full text;
Apply left-justified option (don't pick a newspaper-style text);
Choose Times New Roman 12 pt. font;
Insert the numbers of pages in the top-right corner of the document, starting with the 1st page;
Set up a 1/2" indent for paragraph openings, block quotes and hanging (bibliography) indents;
Number it from the first text page to the final bibliography page, but do not count any pages after the end of the text as part of your page count.
A student should know how to cite a quote in an essay, because citation, along with facts, serves as the best proof of one's words. The student should interpret quotations in their own way to avoid plagiarism, but each of them should be referenced properly. Every quote must be related to one of your arguments.
Most often, students wonder how to cite a novel in an essay. This question can be compared to how to cite a book in an essay as novels typically come in the form of books. You will need the following information to come up with the full, correct citation:
If you wonder how to cite an essay in an essay, it is enough to add the name of the author and work's title. You may also recall the organization or institution where the work was published and the date (if known). We can say the same about how to cite a short story in an essay.
You might need to learn how to cite a statistic in an essay or how to cite an article in an essay. Once again, briefly recall the source in the parentheses or endnotes/footnotes, depending on the preferred writing style. If you want to know how to cite an online article in an essay, make sure that you copy-paste the full URL (website address). If no other data is available, it will be enough to insert the link (just make sure that it works). The main idea is to show that you respect the work of others, and protect your own paper from any sort of plagiarism claims.
Those are the basic guidelines for the Chicago format essay. When citing in an essay for business, history, or fine arts, apply this style.
Einstein, Albert. 1923. The Meaning of Relativity. Princeton: Princeton University Press.
Morris Dickstein, "A Literature of One's Own: The Question of Jewish
Book Awards." Princeton University Library Chronicle 63, no. 1-2 (Winter 2002): 71. https://doi.org/10.25290/prinunivlibrchro.63.1-2.0070.
MSNBC. 2018. "The Rachel Maddow Show: Never Stop Asking." Video, July 23, 2018. https://youtu.be/_biV0Pa5I1E.
The author's full name
Titles of any chapters or sections that were used
The title of the book
The volume number of the book (if applicable)
The publisher of the book
The year the book was published
City the book was published in (only necessary if the book was printed prior to 1900, has versions that are different in one country than in another, or is a rare book)
The name of any editors or translators, if applicable
Page numbers or ranges that were used
Outstanding Essay Writing Tips

That Will Boost Your Grades

Even after reading this lengthy manuscript, you may still have some questions left. How about some extra essay writing tips from the team of academic experts?
Why some students do better at writing their assignments than others? Of course, it is not because they are smarter or something. They just know the secrets of successful writing. Here is how to improve essay writing:
If you can clarify any of the thesis points, do that, but avoid generalization or trivial information. Break huge paragraphs into the smaller sections - it will make your essay look way longer.
Take some time to add examples. Analyze the arguments from the body paragraphs one-by-one. Back them up with examples from real life or those found on the web. Perhaps, your family members can offer some ideas on that. Insert more quotes and stats in the body. It is the part where one can come up with more words.
Then, you should revise the instructions of your teacher as well as the prompt. There, you may find some new ideas and questions to cover in your assignment in order to reach the desired amount of words or pages. Perhaps, you can pose further questions based on the basic problem provided by your instructor. It means extra research as well as new data for your project.
Transition words
It is hard to imagine any piece of writing without so-called transitions. These words and phrases are used to connect the ideas between different paragraphs or chapters. It will remind the audience of where you are and why. Transitions make the paper flow smoothly and logically, from one point to another. They are also another natural approach to expanding an essay if necessary. Check out these examples of transitions that might come in handy for your assignment: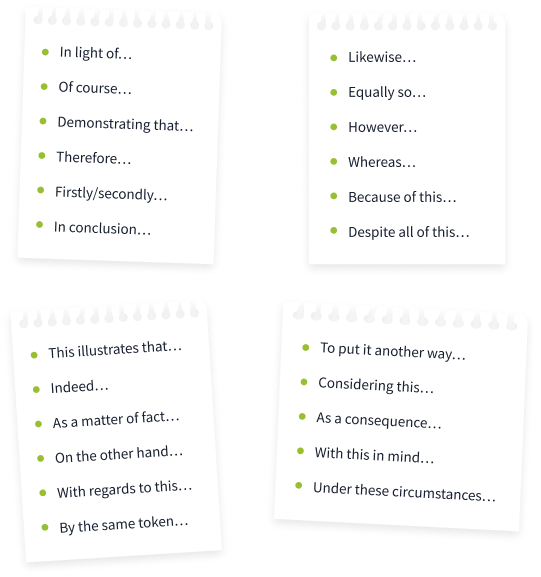 Also, if you double-space your essay, it will automatically become longer. Do not forget to do that. On the whole, formatting is a legal and effective method to make academic writing look longer than it initially is. Also, double-check the structure of your paper. If any element is missing, hurry up and add it.
The last tip may sound obvious, but it is still useful. Add more words! Be more descriptive, but do not just say "beautiful" or "evil." Be more specific with your judgments. You may also add why you think this way or prove your ideas with extra evidence from some credible sources. You may turn some verbs into nouns (e.g., "I came up with the conclusion" is longer than "in conclusion" or "to sum up.") Finally, involve "to be" verbs. Instead of making it "I eat quickly," write, "I am a quick eater." In any case, teachers barely ask for extended essays. Only if you need to create 4,000 words for a single topic, and you are completely out of ideas and nerves, use the recommendations from this block.
Ensure the Originality of Your Text
You do not have to spend a cent or penny to use such tools as Copyscape or Advego when it comes to checking the uniqueness index of your piece. While these apps do offer a paid subscription, they also provide free and quick uniqueness checks. Also, you may use them or their analogies to fix grammar and spelling mistakes, as well as the overall readability of your document. It will be part of the revision process.
Revise Your Essay Before Submission
Do you know what proofreading is? How about editing? Even the best writers make mistakes or typos. You can never be sure about the quality of your writing unless you carefully read through it a couple of times and improve some parts. The process of revision (proofreading and editing) includes:
Making a piece of writing error-free
Eliminating misspellings, grammatical mistakes, punctuation errors, inconsistencies, etc.
Addressing surface-level issues
Word reduction (if needed)
Enhancing the language by making changes for clarity, readability, and smooth narration
Overall improvement of the structure and formatting
Checking the relevance of the provided information and ensuring the logical flow
We hope these essay writing tips were useful for you. You can search online for free examples and samples of writing and use them as templates for your own work. Just do not forget to check their uniqueness once you are done (see the tip above). Writing can be made very simple, and soon you'll see that!